As a food products manufacturer, we ask ourselves what is most important. We think it is providing delicious and wholesome products which can be consumed safely whenever and anywhere by our customers.
Of course, this is a fundamental concept for a food company and what we are expected and must do. Hagoromo Foods aim to further ensure customer trust by following initiatives.
100% Peace of Mind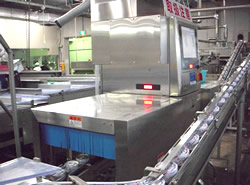 A basic concept of management at Hagoromo Foods is the importance of quality. We believe a necessary condition for our continued existence is 100% Safe Products.
With six directly operated factories with the latest production equipment and quality management systems and production network of 80 domestic and overseas affiliated factories, we are able to provide of steady supply of safe, trusted products. One example of how we work to insure safety in our products is the use of X-ray testing device to detect presence of foreign objects, which increased preciseness of detecting and avoiding foreign objects.
Environmental Initiative 1
Our core business is canned foods, which are economically priced and ecological products that can be stored at room temperature for long periods of time without the use of electricity or gas. Canned foods can be eaten anywhere and anytime because they are user-friendly, canned goods are also convenient in emergencies.
With a 90% can recycling rate, canned foods are low-resource, low-energy, and environment-friendly product.
Environmental Initiative 2
Hagoromo Foods researches advanced uses for tuna resources. High-quality white meat is used for Sea Chicken, but this is only 40% of a tuna fish. Other parts are used for feed, seasonings, health products, and cosmetics.
In order to effectively use all of this valuable natural bounty without waste, we have made commitment to look at natural resources and its potentials from a long-term view and search for new possibilities.
Global Markets
The deliciousness of canned goods comes from using the freshest ingredients picked at their peak.
Our employees travel the world in search of raw ingredients from countries that can produce them at their most delicious point, which makes the countries of the world our business partners.